Metal nameplates are labels often used for industrial, commercial, and decorative purposes. They're a daring approach for companies and people to imprint and mount messages. Metal nameplates can be made from over a dozen substrates, and molded to various sizes, scales, and thicknesses. They are affixed with various adhesives and finished with various polishes depending on the design and purpose. Read More…
Metal Nameplates
Metal nameplates are shaped pieces of metal designed to display information. A metal nameplate can be used to indicate a person's name, the contents or occupants of a room, the direction of emergency exits in a building, instructions on a consumer product, warning notices and many other kinds of information.
Their defining characteristics are their adaptability and the branding possibilities for organizations hiring them. A metal nameplate can be used to display information about a person, a room's contents or inhabitants, the location of an emergency escape in a structure, usage guidelines for a consumer product, or warning messages.
The Design and Customization of Metal Nameplates
The most basic metal nameplates are constructed from thin aluminum sheets or other affordable metals. They are attached to big consumer goods like stoves, lawnmowers, and washing machines and have directions for use, safety precautions, and other pertinent information engraved on them. Fasteners or adhesives can be used to attach these nameplates to surfaces. Fasteners are frequently used to attach metal nameplates for outdoor use because some adhesives are vulnerable to variations in temperature and moisture exposure. Information might be screen printed, stamped, engraved, or etched on nameplates for consumer products.
Most nameplates and those used for personal identification also fit this description. For example, a metalworker will likely stamp, etch, and then drill holes for fasteners in a steel nameplate intended for use on an office door. In addition to being supported or suspended by supports or frames, metal nameplates can also be used as desktop nameplates, a popular practice. The vulnerability of various metals to tarnishing and corrosion is a significant drawback of metal as a nameplate material. Many metals require special care to maintain their beauty and functionality when used outside.
Types of Metal Nameplates
Business Nameplates
A company's name attracts attention through a metal nameplate and exudes presence and authority. Corporate nameplates can be installed in places ideal for branding outside the lobby with the correct adhesive backing or wall fastener. The correct metal nameplate partner may also reduce larger versions of firm branding signs into smaller logos or machines, packed goods, and other items, maintaining branding consistency and enhancing the effect of metal nameplates.
Permanent Warning Signs
Metal nameplates can be transformed into durable, legal, and compliant safety signs, including fire-exit labels, warning signs, eyewash station designations, PPE-outfitting zones, and traffic route labels on warehouse floors.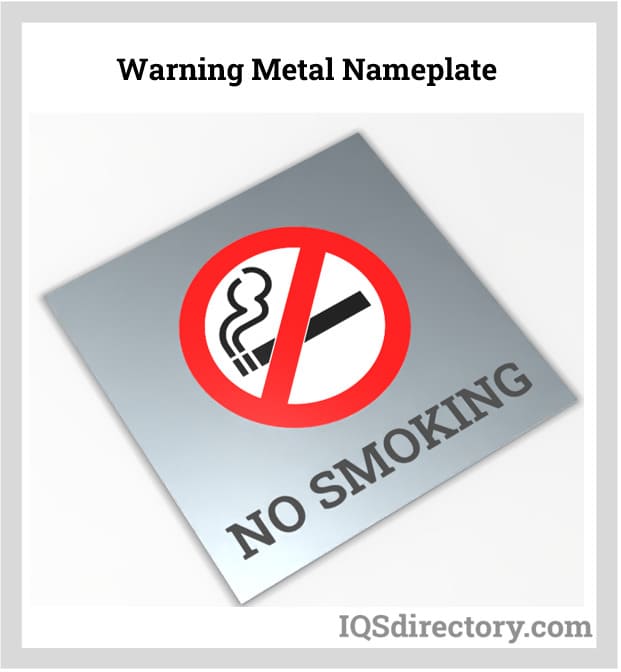 Name Plates for Labels and Tags
Metal nameplates can creatively include weatherproof instructions on tools and equipment. This is especially beneficial for equipment installed in harsher environments, close to heat, or for equipment that needs immediate, on-the-spot instruction, like certain metal valve plates or pump tags in boiler rooms.
Industrial Labels
As mentioned above, machine labels are commonly used for metal tags and nameplates. From domestic and commercial appliances to industrial equipment and machinery, these high-use, very tough pieces demand equally robust branding.
Customized Tags
Metal and plastic tags engraved with a company's name, contact information, and emblem are eye-catching accessories. Engraved plates come in various metals or two-toned engraver plastic hues chosen to go well with a business. They are also fade-resistant.
Product Identification Plates With Serial Numbers
Product identifying information, serial numbers, and corporate information cannot fade for products used in demanding and severe situations. These are necessary for proper machine handling and maintenance in addition to being in direct compliance with industry regulatory standards. Regardless of the environment, metal plates guarantee that the product and printed or stamped serial IDs last as long as the machine.
Types of Metal Nameplates
Stainless Steel
In the market for metal etching and plate manufacturing today, stainless steel is one of the most popular nameplate materials. Stainless steel has a long lifespan. It is extremely durable and stain-resistant to most environmental stains, corrosions, and moisture-related harm. A stainless steel nameplate will require significant force to dent or nick it. Additionally, the stainless steel's clean finish and natural metallic sheen make it appealing in various settings, delivering the best value without sacrificing looks.
Aluminum
Aluminum is the second most popular metal nameplate material. First, the metal is affordable and extremely bendable, making it perfect for custom nameplates that need fine engraving, sculpting, or finishing.
Applications of Metal Name Plates
Many metals, including gold, silver, bronze, zinc, steel, aluminum, and others, can be used to make nameplates. A typical material used for product labeling, nametags, desk or workplace nameplates, and many other forms of signage is aluminum. Each of those uses can also be accomplished with costlier, heavier metals like bronze and brass, but the attractiveness of bronze and brass nameplates tends to outweigh their practicality.
They are most typically utilized as nameplate materials in professional companies' offices and as monuments' labels. Even more expensive gold is used to make nameplates for artwork, plaques, and in the offices of companies that make significant investments.
Choosing the Correct Metal Nameplate Supplier
To ensure you have the most beneficial outcome when purchasing metal nameplates from a metal nameplate supplier, it is important to compare several companies using our directory of metal nameplate suppliers. Each metal nameplate supplier has a business profile page highlighting their areas of experience and capabilities and a contact form to directly communicate with the supplier for more information or request a quote. Review each metal nameplate business website using our proprietary website previewer to quickly learn what each company specializes in. Then, use our simple RFQ form to contact multiple metal nameplate companies with the same form.
Metal Nameplates Informational Video